Article by guest blogger Powder Matt.
Something special happens in the mountains as we optimistically look forward to spring: the mountain air and sunshine are a bit warmer and the days are longer. That means it's time to ski, ride or try some new winter activities in the fresh snow of a beautiful day.
I recently skied with Mountain Man Cole, athlete and social media influencer. He reminded me with his sunny outlook that just getting outside and trying a new sport or activity can nudge your busy self into a stress-free, happy place.
"Optimism is very important for success both in sport and life," says Cole, as we skied at Fernie Alpine Resort. While stopping abruptly and spraying powder in my face, he added: "It's important make time to get outside, meet winter head on and challenge yourself to a new mountain activity."
Sure, Cole is an accomplished athlete, but with a little effort and a can-do attitude, you can get more out of your winter. Try one –  or all – of these winter activities.
Nightlife, Nature, Luxury
Whistler Blackcomb, the largest ski resort and village in North America, packs not only a peak skiing and riding experience, but a full lineup of activities and experiences, from pumping nightlife to serene snowshoes trails.
If you need anymore reason  to get here, Whistler Blackcomb has had its snowiest season of the past 10 years. Check out these statistics, which includes the fact that March and April are when the resort gets the most snow.
Powder Highway Magic
Kimberley Alpine Resort, Kimberley, BC: The laid-back vibe, mix of winter-loving folks and cool craft shops dotting a pedestrian-friendly downtown, make this place special. It's a fantastic mashup for a stellar winter. It also includes a super-sized Nordic centre, fat bike trail network in one of Canada's largest municipal parks, and a ski resort dotted with ski-in and ski-out lodging options. Kimberley Alpine Resort also offers a heart-pumping fall-line and powder-filled trees that will make you want to ski until the lifts stop every day. Families with small children will also find a private learning area, no through traffic, making first turns fun, safe and easy.
Fernie Alpine Resort, Fernie, BC: Feel the power of being surrounded by tall rocky crags, walk a historic main-street filled with local shops and dining, and stand mountain top on the biggest vertical ski area in the Canadian Rockies. This is the real deal; it's hard to top this mountain town with tons of trails for your winter exploring. Pick your pleasure: snowshoe, fat biking and even mountain-side yoga to start your mornings at Fernie Alpine Resort. Stay slopeside in your own private place, with a hot-tub, then hit Cirque Restaurant and/or the Canadian Rockies only Stoli Ice Bar at Lizard Creek Lodge. If you're looking for the ultimate in seclusion, where you can ski to your door of your own private enclave nestled in tall cedars, check out Snow Creek Cabin.
Add one of these activities to your ski vacation
Thinking of trying something new? Take that first step with a lesson. You'll be sliding, stepping or pedaling in no time.
Snowshoe
Take a guided snowshoe tour to get up to speed quickly, learning simple steps that will have you feeling like a pro in no time. Many sessions also offer lunch or a hot beverage along the trail.
Cross Country
Take a lesson from professionals who will will show your classic strides or skate-style. Pick your own pace as you can head out for peace on the trails.
Fat Biking
Try the fast-growing sport of fat biking with a guided tour or with friends. Similar to mountain bikes, they have beefier tires to give you the ability to ride anywhere – and not just in snow but also in sand and mud.
Get More Adventurous
Check out the Backcountry Basics workshop at Fernie Alpine Resort. The two-day course provides coaching on how to use ski touring gear, uphill travel techniques, mountain environment awareness and snow safety.
Try Some Top Gear
Snowshoes: Check out Atlas Snowshoes, perfect for your city and mountain snow walks to pump up your fitness program. Don't forget to bring your G3 poles; they'll provide the added balance assistance.
Backcountry: If you're getting started with backcountry ski touring this winter, try the new G3 climbing skins to make humping up that slope so much easier.
Stay warm: Enjoy you piping, hot coffee longer with a Yeti Rambler cup. It fits nicely in the drink holder of a or in the side pocket of your backpack.
Stay cozy: Nights out on the town feel comfortable along the Powder Highway or browsing the Whistler Village, in your free and easy Tentree Hoodie.
Pack it: Load up your gear in style with the Herschel Supply Parcel Luggage Bag, perfect for a multi-day sporty holiday.
MORE INFORMATION

Start planning your BC
winter getaway here
.
Learn more about what to expect along the
Powder Highway
and at
Fernie Alpine Resort
and
Kimberley Alpine Resort
.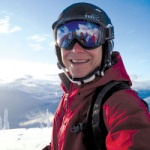 Powder Matt is hooked on Powder! Skiing has been part of his life for 40yrs! From ski racing to backcountry touring there is not a part of skiing that he does not like- in fact he will often say that spending a day in the mountains 'Life is good when you do what you enjoy' or refer you to his motto Eat.Sleep.Ski . He has been working in the Ski Resort business for over 20 years. He is the Senior Vice President, Resort Experience, at Resorts of the Canadian Rockies. He looks forward to your comments. Make it a Powder Day! www.powdermatt.com