Article by guest blogger Powder Matt.
You can go to Google maps and know geographically where you're going but you have to physically be there to let the journey shape your outlook and your feelings.
We can't hold back our excitement when Spring rolls around – sunny days, longer nights and a change in the weather are enough big-time reasons to get us in the mood for a getaway.
Let Spring Fever Take Over.

Take a ski tour, snowshoe or cross country ski to let the fresh air of Spring fill your lungs and carry away the daily grind.
This is one fever you'll want to catch – so book your trip now, have something to look forward to and feel the goodness when you try a new experience.
Places to take that first step. Book your Canadian Rockies region ski vacation with a twist.
Spring time is the perfect time to take a ski vacation into the Canadian Rockies region. Whether it's your first time or you are a seasoned shredder, pick a ski resort like Fernie Alpine Resort, in Fernie, British Columbia, or Kicking Horse Mountain Resort, located in Golden, British Columbia, where you can easily ski to your door with on-mountain stays, along with a variety of other activities nearby to try.
Snow running, leisurely walks or snowshoeing make a great way to catch fresh air in your face and keep up on your cardio program, with the added benefit of nature time. Enjoy time in a log cabin, stay in Snow Creek Cabin, nestled in a cedar forest and snowshoe right out the front door. Or take the Mountain Heritage Snowshoe Tours offered by Fernie Alpine Resort's Telus Winter Sports School, a guided tour that ends nicely with pasta and wine.
Nothing beats evening cross country skiing on the trails, after a day of fresh pow at Kicking Horse Mountain Resort, return to your private ski cabin in the woods and check out the line up at Lush Mountain Accommodations. Kick and glide out the back door to the Golden Nordic Centre, offering a variety of trails to match your ability level.
Place to go wild.
Stay unplugged in a fly-in or ski-in only lodge in the wilderness.
Stride along.
Go old school with a classic cross-country ski vacation into a cluster of cabins that provide lodging, warm up next to the fire in the historic CPR cabin and enjoy homestyle meals at the Brewster's Shadow Lake Lodge in Banff National Park. A bonus is that newly announced lodge managers, Katie and Leo Mitzel, are famous for service and incredible foodie experiences.
Take beautiful steps deep into history
.
Snowshoe trails abound here and the views can't be beat with Mount Assiniboine looming above you – known as North America's Matterhorn. After your tromp through the snowy meadows, kick back in the historic main lodge of
Assiniboine Lodge
, for the best social ever (unplugged, of course). After amazing food, grab hands and take a star-filled-sky walk back to your own private log cabin for your own version of story time. Your guides Claude and Andre are here to assist in providing memorable mountain time adventures, ready to break trail and share the joy.
First ski touring here.
Purcell Mountain Lodge, located high in the powder rich Purcell Mountains, a short heli flight from the alpine town of Golden, British Columbia, sets the bar high for luxury in the backcountry, with all the comforts of home. It is best to go with a guide when you are beginning the sport of ski touring. Ask for Association of Canadian Mountain Guides (ACMG), like Ken and Stef, who will provide you with not only knowledgeable instruction, but to also include picking safe routes and discovering how to use the specific gear. They will make you feel like a champion on and off the slopes.
Adventure Gear Essentials
Wear a sweet helmet
The best helmet is the one you wear and the one by Sweet is a good way to go. Get the latest Sweet helmet with game-changer use of technologies combining lightweight, comfortable fit with the impact shield liner for safety.
Winter traction in the backcountry
Snowshoe easy, with the Tubbs new line up, allowing you to explore, providing a balanced and natural stance, making deep snow walks look and feel much easier.
Stay warm
Never forget the basics. Winter feels better when you wear base layers next to your skin. Helly Hansen Lifa Merino Pants and tops are perfect for all cold weather activities.
Poles matter
You can't have any issues when you are out in the wilderness so get poles like G3 Via Carbon that are easy to adjust and most importanly durable.
Sticks that rip powder and the mountain
Rossignol Soul 7HD is hands down the best powder and all mountain play sticks you can put on your feet.
Build Forests
After ski or in the lodge, you'll love the comfort and fit of a Tentree tee or sweatshirt and your doing good- as they plant trees for every item sold.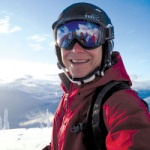 Powder Matt is hooked on Powder! Skiing has been part of his life for 40yrs! From ski racing to backcountry touring there is not a part of skiing that he does not like- in fact he will often say that spending a day in the mountains 'Life is good when you do what you enjoy' or refer you to his motto Eat.Sleep.Ski . He has been working in the Ski Resort business for over 20 years. He is the Senior Vice President, Resort Experience, at Resorts of the Canadian Rockies. He looks forward to your comments. Make it a Powder Day! www.powdermatt.com